Fantasy series rental led display with unique modular and front maintenance structure design, concentrated on reducing maintenance trouble.
Moreover, Aluminum Die-casting technology help to achieve an high connection precision.
Fantasy series with 8Kg/Panel and 500 x 500 x 80 mm only make it portable and easy to install, dismantle. Different models are available brings you a flexible option.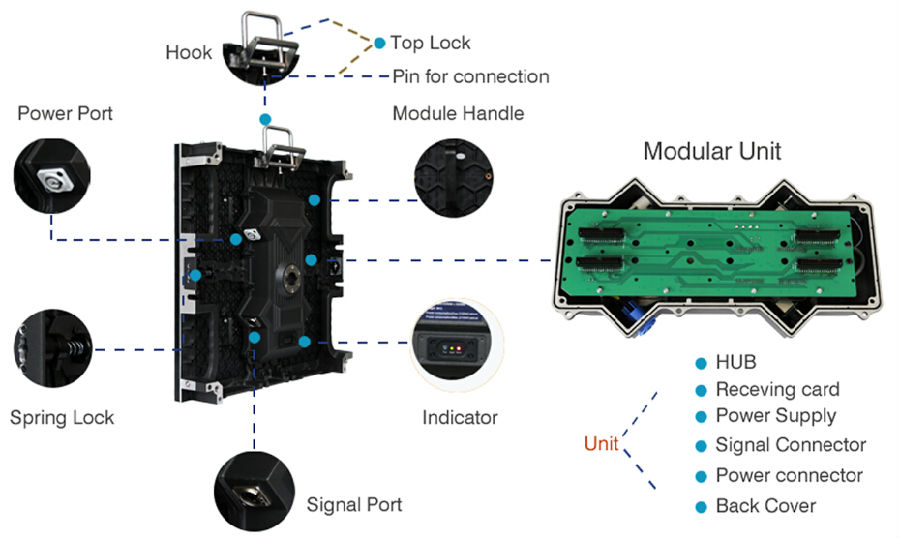 Features
1. Ultra thin & light weight (only 8Kg/panel), portable handy
2. Die-casting aluminum cabinet design with high precision
3. Modular design, make it easy to maintain and replace
4. HD show without water ripple on program broadcasting
5. Easy to assemble & dismantle with fast locks on each cabinet
6. High gray level & good color uniformity with brand IC, led lamp
7. Energy saving without fans design, exclusive natural cooling effect


Easy to replace and maintain with Front Sevice Structure, realizing time and labor saving. Just need two small wrenches and few seconds we can take the module out from the cabinet easily and quickly.
Design of Fantasy series rental led display are concentrated to pursue high definition and stability stage play effect brings us a visual feast.
Parameter
 Model
     FS-3
     FS-4
     FS-5
     FS-6
     Pixel Pitch
     3.91 mm
     4.81 mm
     5.95 mm
     6.25 mm
     LED Type
     SMD1921
     SMD2727
     SMD2727
     SMD3535
     Configuration
     1R1G1B
     1R1G1B
     1R1G1B
     1R1G1B
     Module Size
     250*250 mm
     250*250 mm
     250*250 mm
     250*250 mm
     Pixel Density
     65536 pixel/㎡
     43264 pixel/㎡
     30976 pixel/㎡
     25600 pixel/㎡
     Refresh Rate
     ≥ 1920Hz
     ≥ 1920Hz
     ≥ 1920Hz
     ≥ 1920Hz
     Gray Scale
     16 Bit
     16 Bit
     16 Bit
     16 Bit
     Brightness
     ≥ 5500 cd/㎡
     ≥ 6000 cd/㎡
     ≥ 60

00 cd/㎡

     ≥ 6000 cd/㎡
     Scan Way
     1/16
     1/13
     1/7
     1/10
     Frame Rate
     50HZ~60HZ
     50HZ~60HZ
     50HZ~60HZ
     50HZ~60HZ
     Viewing Angle
     H:140°, V:140°
     H:140°, V:140°
     H:140°, V:140°
     H:140°, V:140°
     Cabinet Resolution
     128*128 Dots
     104*104 Dots
     88*88 Dots
     80*80 Dots
     Material
     Die-casting Aluminum
     Die-casting Aluminum
     Die-casting Aluminum
     Die-casting Aluminum
     Cabinet Size
     500*500*95mm
     500*500*95mm
     500*500*95mm
     500*500*95mm
     Cabinet Weight
     8.5Kg
     8.5Kg
     8.5Kg
     8.5Kg
     IP Rating
     IP65
     IP65
     IP65
     IP65
     Max.Power Consumption
     900W/SQM
    720W/SQM
     750W/SQM
     750W/SQM
     Avg.Power Consumption
    300W/SQM
     240W/SQM
     250W/SQM
     250W/SQM
     Control System
     Nova/Linsn/Dbstar
     Nova/Linsn/Dbstar
     Nova/Linsn/Dbstar
     Nova/Linsn/Dbstar
     Operation System
     Windows/me/200NT/XP
     Windows/me/200NT/XP
     Windows/me/200NT/XP
     Windows/me/200NT/XP
     Working-Temperature
     '-20℃~60℃
     '-20℃~60℃
     '-20℃~60℃
     '-20℃~60℃
     Working Humidity
     10%~90% RH
     10%~90% RH
     10%~90% RH
     10%~90% RH
     Input Voltage
     AC 110~220 V (±5%)
     AC 110~220 V (±5%)
     AC 110~220 V (±5%)
     AC 110~220 V (±5%)
     Blind spot rate
     ≤0.01%
     ≤0.01%
     ≤0.01%
     ≤0.01%
     MTBF
     35000 Hour
     35000 Hour
     35000 Hour
     35000 Hour
     Lifespan
     100000 Hour
     100000 Hour
     100000 Hour
     100000 Hour
     Certification
     CCC,CE,RosH,ETL
     CCC,CE,RosH,ETL
     CCC,CE,RosH,ETL
     CCC,CE,RosH,ETL