Kingkong series is an high quality outdoor rental display,with graceful and concise appearence, <0.1mm discrepancy aluminmum die-casting moulding criterion, no deformation; And SMD3535 led lamp is adopted to its production which guarantee a wide viewing angle(>140°H;>140°W) and a nice flatness appearance. Brightness>6000CD/SQM.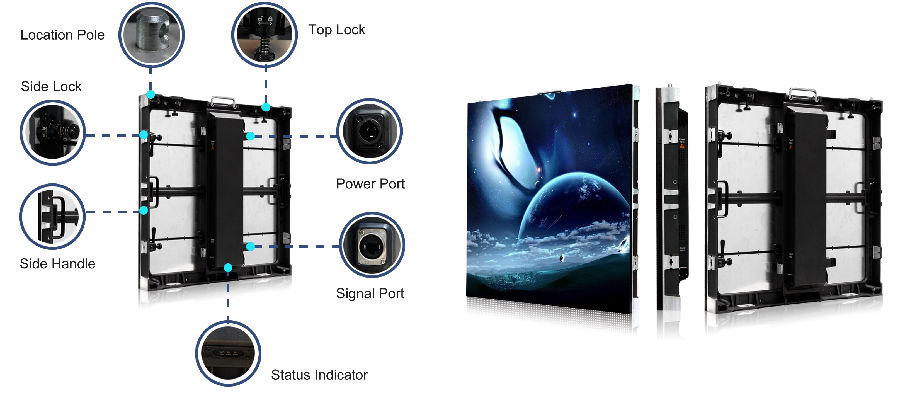 Features
1 Die-casting aluminum structure as cabinet forming which help to achieve an higher precision.
2.640*640mm panel and only 13Kg/panel compared with Iron Fixed Panel is more suited to Rental events which requires quick install.
4.SMD lamp with a longer lifespan than DIP lamp, with lower led attenuation.
5.Excellent waterproof function which be support its normally using in heavily rains.
6.3000:1 high contrast and >6000 nits brightness,propitious to variety of outdoor event requirements and keep the reality of video quality,even under sunshine.
7.Status Indicator shows the working condition of whole LED Screen wall
Parameter
Model
     KS-6
     KS-8
     KS-10
     Pixel Pitch
     6.67 mm
     8 mm
     10 mm
     LED Type
     SMD3535
     SMD3535
     SMD3535
     Configuration
     1R1G1B
     1R1G1B
     1R1G1B
     Module Size
     320*160 mm
     320*160 mm
     320*160 mm
     Pixel Density
     22477 pixel/㎡
     15625 pixel/㎡
     10000 pixel/㎡
     Refresh Rate
     ≥ 2000Hz
     ≥ 2000Hz
     ≥ 2000Hz
     Gray Scale
     16 Bit
     16 Bit
     16 Bit
     Brightness
     ≥ 6500 cd/㎡
     ≥ 6500cd/㎡
     ≥ 6000cd/㎡
     Scan Way
     1/6
     1/5
     1/4
     Frame Rate
     50HZ~60HZ
     50HZ~60HZ
     50HZ~60HZ
     Viewing Angle
     H:140°, V:140°
     H:140°, V:140°
     H:140°, V:140°
     Cabinet Resolution
     96*96 Dots
     80*80 Dots
     64*64 Dots
     Material
     Die-casting Aluminum
     Die-casting Aluminum
     Die-casting Aluminum
     Cabinet Size
     640*640*90mm
     640*640*90mm
     640*640*90mm
     Cabinet Weight
     13Kg/Panel
     13Kg/Panel
     13Kg/Panel
     IP Rating
     Front IP65, Rear IP54
     Front IP65, Rear IP54
     Front IP65, Rear IP54
     Max.Power Consumption
     370W/Panel
     330W/Panel
     250W/Panel
     Avg.Power Consumption
     120W/Panel
     110W/Panel
     80W/Panel
     Control System
     Nova/Linsn/Dbstar
     Nova/Linsn/Dbstar
     Nova/Linsn/Dbstar
     Operation System
     Windows/me/200NT/XP
     Windows/me/200NT/XP
     Windows/me/200NT/XP
     Working-Temperature
     '-20℃~60℃
     '-20℃~60℃
     '-20℃~60℃
     Working Humidity
     10%~90% RH
     10%~90% RH
     10%~90% RH
     Input Voltage
     AC 110~220 V (±5%)
     AC 110~220 V (±5%)
     AC 110~220 V (±5%)
     Blind spot rate
     ≤0.01%
     ≤0.01%
     ≤0.01%
     MTBF
     35000 Hour
     35000 Hour
     35000 Hour
     Lifespan
     100000 Hour
     100000 Hour
     100000 Hour
     Certification
     CCC,CE,RosH,ETL
     CCC,CE,RosH,ETL
     CCC,CE,RosH,ETL