Epoch outdoor rental led display is an high quality and waterproof rental product with Small cabinet size, ultra thin and light weight, high IP rating, and currently P3.91 rental led display  is the smallest pixel pitch for outdoor rental case in the led display market.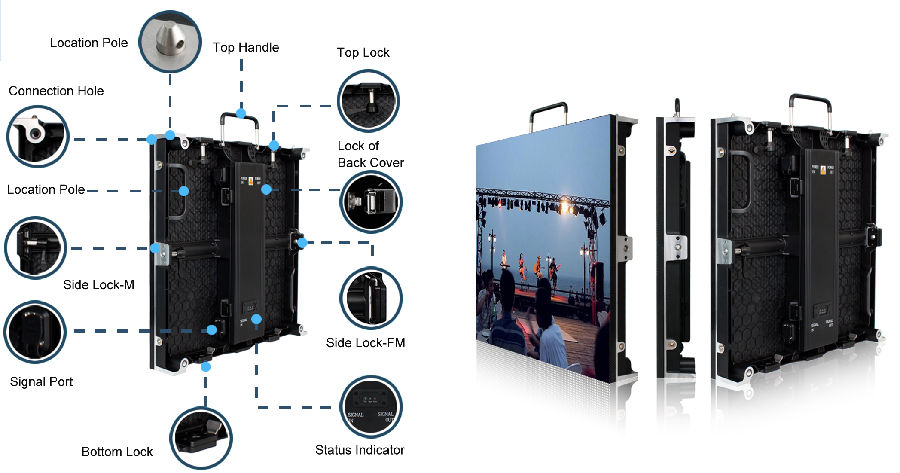 Features
1. Section Aluminum structure, high-precision processing technology and good heat dissipation.
2. Ultra thin and light weight which with only 9Kg/panel and 75mm thickness.
3. Portable, and easy to set-up and dismantle with four fast locks on each panel.
4. High screen flatness, location accuracy and seamless connection.
5. Easy to maintain, remove and replace the defect part individually.
Parameter
| | | | | |
| --- | --- | --- | --- | --- |
| Model |      OES-3 |      OES-4 |      OES-5 |      OES-6 |
|      Pixel Pitch |      3.91 mm |      4.81 mm |      5.95 mm |      6.25 mm |
|      LED Type |      SMD1921 |      SMD2727 |      SMD2727 |      SMD3535 |
|      Configuration |      1R1G1B |      1R1G1B |      1R1G1B |      1R1G1B |
|      Module Size |      250*250 mm |      250*250 mm |      250*250 mm |      250*250 mm |
|      Pixel Density |      65536 pixel/㎡ |      43264 pixel/㎡ |      28224 pixel/㎡ |      25600 pixel/㎡ |
|      Refresh Rate |      ≥ 2000Hz |      ≥ 2000Hz |      ≥ 2000Hz |      ≥ 2000Hz |
|      Gray Scale |      16 Bit |      16 Bit |      16 Bit |      16 Bit |
|      Brightness |      ≥ 6000 cd/㎡ |      ≥ 6000 cd/㎡ |      ≥ 6000 cd/㎡ |      ≥ 6000 cd/㎡ |
|      Scan Way |      1/16 |      1/13 |      1/7 |      1/10 |
|      Frame Rate |      50HZ~60HZ |      50HZ~60HZ |      50HZ~60HZ |      50HZ~60HZ |
|      Viewing Angle |      H:140°, V:140° |      H:140°, V:140° |      H:140°, V:140° |      H:140°, V:140° |
|      Cabinet Resolution |      128*128 Dots |      104*104 Dots |      84*84 Dots |      80*80 Dots |
|      Material |      Die-casting Aluminum |      Die-casting Aluminum |      Die-casting Aluminum |      Die-casting Aluminum |
|      Cabinet Size |      500*500*75mm |      500*500*75mm |      500*500*75mm |      500*500*75mm |
|      Cabinet Weight |      8.5Kg |      8.5Kg |      8.5Kg |      8.5Kg |
|      IP Rating |      Front IP65, Rear IP54 |      Front IP65, Rear IP54 |      Front IP65, Rear IP54 |      Front IP65, Rear IP54 |
|      Max.Power Consumption |      210W/Panel |      200W/Panel |      130W/Panel |      160W/Panel |
|      Avg.Power Consumption |      80W/Panel |      65W/Panel |      40W/Panel |      45W/Panel |
|      Control System |      Nova/Linsn/Dbstar |      Nova/Linsn/Dbstar |      Nova/Linsn/Dbstar |      Nova/Linsn/Dbstar |
|      Operation System |      Windows/me/200NT/XP |      Windows/me/200NT/XP |      Windows/me/200NT/XP |      Windows/me/200NT/XP |
|      Working-Temperature |      '-20℃~60℃ |      '-20℃~60℃ |      '-20℃~60℃ |      '-20℃~60℃ |
|      Working Humidity |      10%~90% RH |      10%~90% RH |      10%~90% RH |      10%~90% RH |
|      Input Voltage |      AC 110~220 V (±5%) |      AC 110~220 V (±5%) |      AC 110~220 V (±5%) |      AC 110~220 V (±5%) |
|      Blind spot rate |      ≤0.01% |      ≤0.01% |      ≤0.01% |      ≤0.01% |
|      MTBF |      35000 Hour |      35000 Hour |      35000 Hour |      35000 Hour |
|      Lifespan |      100000 Hour |      100000 Hour |      100000 Hour |      100000 Hour |
|      Certification |      CCC,CE,RosH,ETL |      CCC,CE,RosH,ETL |      CCC,CE,RosH,ETL |      CCC,CE,RosH,ETL |